If it keeps raining like this...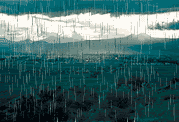 we may have ocean front property by the weekend!
For a little context. Our house is smack in the middle of a very large hill that runs from waaaaay up there all the way doooooown to the bay. We actually have an ocean view from our bedroom. If the leaves have all fallen. And you stand just so. With your right foot on tippy toes...your left pointing thata way.
::sigh::
April showers...